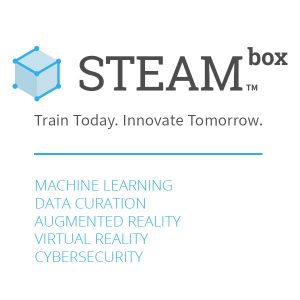 Meet STEAMBOX
I've discovered that once you get involved with technology the way we are at LivePicture, new ideas keep popping up. Of course, most of those ideas are seldom pursued because we're all engrossed in improving and expanding our current companies. But something different happened last month.
LivePicture founder, Steve Couchman, had been working on an idea for training people to fill specific technological positions in an ever-expanding pool of open jobs. His "idea" grew from an interest into an obsession. From that obsession came a service geared to create highly skilled, certified technological experts. The service, called STEAMBOX™, incorporates an "A" with the traditional STEM studies, since Couchman believes that technology is increasingly used in art.
STEAMBOX was officially announced in May at the Michigan Educators Apprenticeship and Training Association's Spring Apprenticeship Conference (MEATA). The program offers students and workers access to certification with top-notch training and on the job skills development in advanced technology arenas. Currently, STEAMBOX offers A/R, V/R, and 3-D. Additionally in development are offerings in data curation, machine learning, artificial intelligence, and cybersecurity auditing (NIST 800-171 Compliance). Participants are given the tools and resources necessary to launch a career in these exceptionally desired fields. Consequently, employers will have access to a deeper pool of highly-skilled talent in the industry.
STEAMBOX enables today's learners to reach for the future with a solid, advanced technology training program that does not result in a huge financial burden. These students leave the program ready to work and there are many companies prepared to hire them on the spot. It is a simple and elegant solution with a progression of students + technology + highly-skilled jobs = success for all.
To learn more, visit www.steambox.tech